What Are The Key Components Of Industrial Control Panels?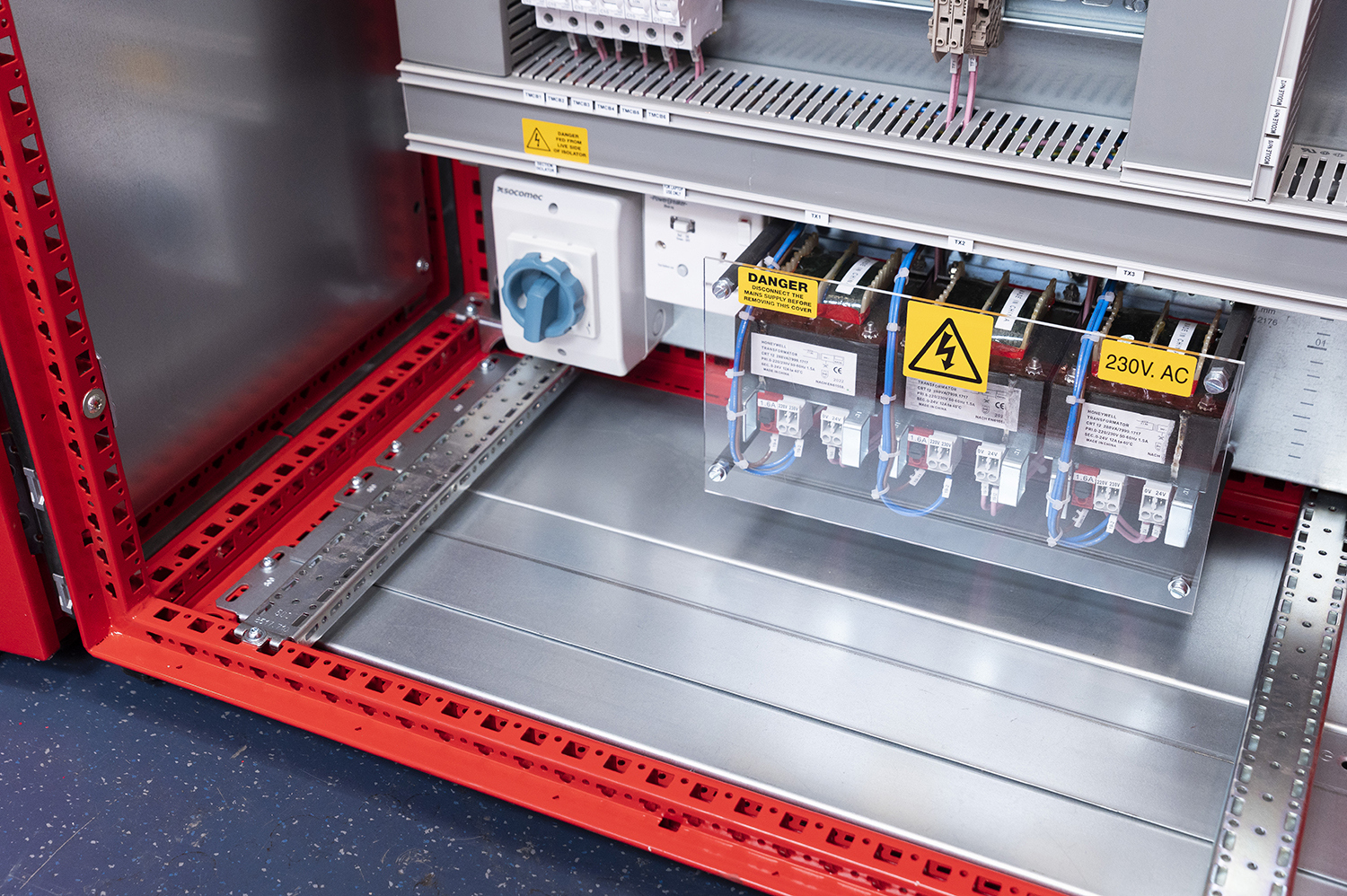 Control systems play a fundamental role in electrical engineering, distributing voltages between circuits, protecting circuits from becoming damaged, and ensuring system safety. Bespoke industrial control panels are made from a variety of components, each of which work together to sustain process outputs – and in this article, we'll look at the main components we use in our customer's systems.
1) Cabinet
The cabinet is the most obvious element of a control panel that people generally see. Generally, a mild steel box, although other materials such as plastic, GRP and stainless steel can be used. The cabinet provides a safe and secure environment within which the control panel's switchgear can be housed. Bensons seeks to use standard, mass produced cabinets where possible to allow us to be cost effective, however, we have a range of suppliers who can provide us with bespoke cabinets to meet whatever requirements the customer may have.
2) Isolators
To allow the door of a cabinet to be opened, then the circuitry inside must be electrically safe, i.e. turned off. This is the role of the isolator, effectively it is the power switch for the control panel, generally mounted on the cabinet door and designed in such a way that the door can only be opened with the isolator in the 'off' position.
3) Transformers and Power Supplies
Different circuits and components operate at different voltages, depending on the customer specification. Transformers enable different AC voltages to be obtained from a single incoming power supply by stepping-up (increasing) or stepping-down (reducing) the AC voltage to the required level. A common example is to reduce an incoming 415 V voltage down to 24V AC power for a control circuit. Power supplies play a similar role in transforming an AC (alternating current) voltage to DC (direct current) voltage.
4) Fuses
Fuses are single-use safety devices that shut off an electrical circuit to prevent it being overloaded by an excessive electrical current, caused by a current surge or short circuit for example. Fuses are designed to withstand a certain level of electrical current (measured in Amps) before burning out, and once tripped, each fuse will need to be replaced.
5) Circuit breakers
Circuit breakers are essential safety devices that prevent burnouts and damage to the control panel and the devices that they protect. Circuit breakers are switches, they protect a circuit and its components from becoming damaged by a surge, or excess electrical current. As with a fuse, they trip when they experience an excessive electrical current, however circuit breakers can be reset once they have tripped.
6) Terminal blocks
Terminals are generally the most prolific components within a control panel, they allow electricians and engineers to connect wires from assembled equipment to the input/output connections on other equipment, thereby creating a complete circuit. In addition, within a control panel, terminals allow wires to be joined together, directing electrical power from a power source to the various components that need it.
7) Programmable Logic Controllers (PLCs)
Programmable logic controllers are small, industrialised computers, developed to control a range of processes in industrial settings, such as operating a wave machine in a swimming pool or controlling a complex and intricate production process. PLCs are configured for use in specific industrial or commercial environments and may include a range of input and output devices to allow the status of a process to be monitored and controlled. An advanced Human Machine Interface (HMI) can be implemented through the use of an appropriate control display.
8) Cable and Connectors
The reliability of a control panel is underpinned by the quality of the electrical connections between the components, these connections are made by cable and the crimps at either end. Cable types can be broadly split between tri-rated cable and Low Smoke Zero Halogen cable (LSZH). Tri-rated cable meets British (BS6231) American (UL1015) and Canadian (CSA C22.2) standards. Whilst Tri-rated cable is rated to high temperature and is flame retardant, LSZH cable is intended for use in applications where smoke emissions and toxic fumes could pose a risk to human health and/or vital equipment in the event of a fire. At either end of a cable, you will find a crimp. The purpose of the crimp is to facilitate a secure and reliable connection between the cable and component. The crimp is applied to the cable with a crimping tool. To ensure the highest quality, Bensons uses crimps and crimping tools from an acknowledged industry leader.
Quality, Expertise, and Engineering Standards
Most electrical control panels feature these or similar components, but that doesn't make each control panel equal. The differences between industrial control panel manufacturers comes down to the quality of the components they use, their level of design expertise, and the emphasis they place on robust, high quality manufacturing techniques. This is often enough to set an efficient, safe, and reliable control panel apart from a poorly designed and low-performing system.
What next?
Having celebrated 60 years in business in 2021, Bensons are one of the UK's foremost designers and manufacturers of bespoke industrial control panels, serving customers throughout the world in a wide range of business sectors. We deliver bespoke projects to our customer's precise specifications, and are accustomed to working to tight timescales, with an unstinting commitment to quality. To find out more, or for advice on selecting the best control systems for your application, please call 01924 975578 today, or click here to send us a message.

The Role That Control Panels Play In The Efficient Operation Of Boilers & Heating Systems
Around 85% of the UK's commercial and industrial buildings are currently heated by gas. However, the heating of UK properties is about to undergo a substantial change as we transition towards low carbon energy systems.
Read More
Need to discuss your perfect Control Panel solution? Simply fill in the form with your details and requirements and we'll be in touch!
Give Us A Call