Honeywell Supplier Summit
Bensons attends Honeywell 2020 Supplier Summit in Warsaw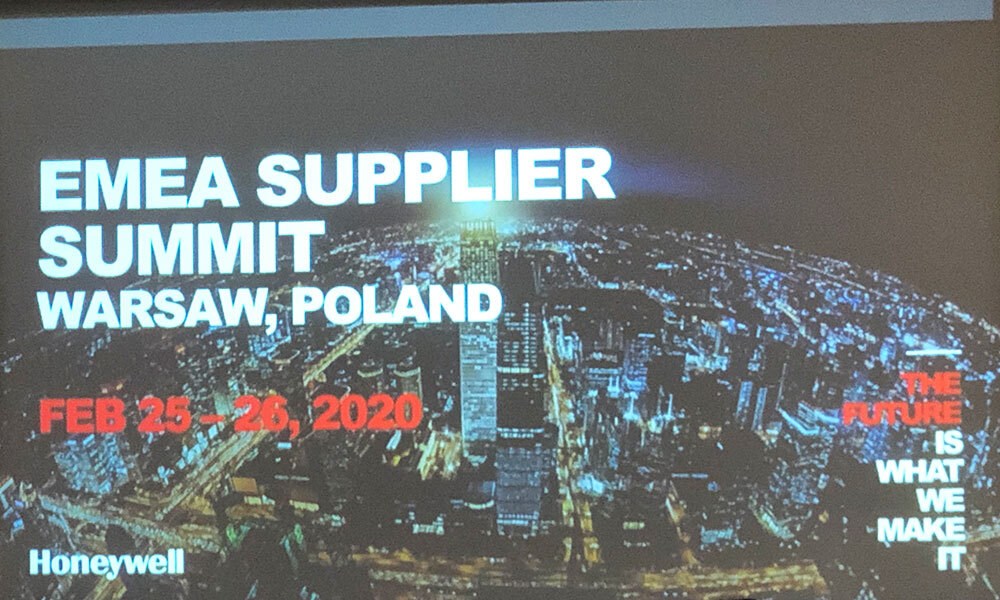 In February, delegates from Bensons joined 66 other companies for Honeywell's annual supplier summit. The two-day event, held in Warsaw, gave attendees from Honeywell's top valued suppliers the opportunity to discuss the company's supply chain strategy.
Hosted by Honeywell's global procurement team, the event offered a fascinating insight into the challenges and opportunities presented to the company's strategic suppliers.
The aim of the event was to allow suppliers to keep up to date with Honeywell's business goals. During the summit Honeywell shared details of their technologies and solutions to improve performance and productivity across the supply chain.
During the event, attendees focussed on productivity – looking at ways to make the supply chain more competitive while reducing costs. Lead times for products was also an important topic with delegates looking at how to implement cost-effective inventory and stock-holding solutions.
Attending the event gave Bensons the opportunity to plan future collaborations with Honeywell, allowing us to continue our long-term, successful relationship.
Bensons' director, Matthew Barton, attended the event and says: "During the event we heard about Honeywell's plans for the future and were able to focus on how we can continue to provide innovative solutions at the most competitive cost for our clients."
About Honeywell
With over 110,000 employees globally, the Fortune 500 company Honeywell produces a wide range of commercial and consumer products, engineering services and aerospace systems.
Taking an innovative approach, the company manufactures technologies to address some of the world's most critical challenges in energy, safety, security, productivity and global urbanisation. By combining physical products with cutting-edge software Honeywell is improving buildings, factories, utilities and aircraft to create a safer, more comfortable and more productive world.
Bensons first began working with Honeywell in the early 1970s and now provides the company's Building Solutions team with over one hundred new control panels each year. Bensons also regularly provides engineers to modify and maintain systems at Honeywell customer sites around the UK and Republic of Ireland.
The Role That Control Panels Play In The Efficient Operation Of Boilers & Heating Systems
Around 85% of the UK's commercial and industrial buildings are currently heated by gas. However, the heating of UK properties is about to undergo a substantial change as we transition towards low carbon energy systems.
Read More
Need to discuss your perfect Control Panel solution? Simply fill in the form with your details and requirements and we'll be in touch!
Give Us A Call