Bensons' first apprentice demonstrates success of apprenticeship scheme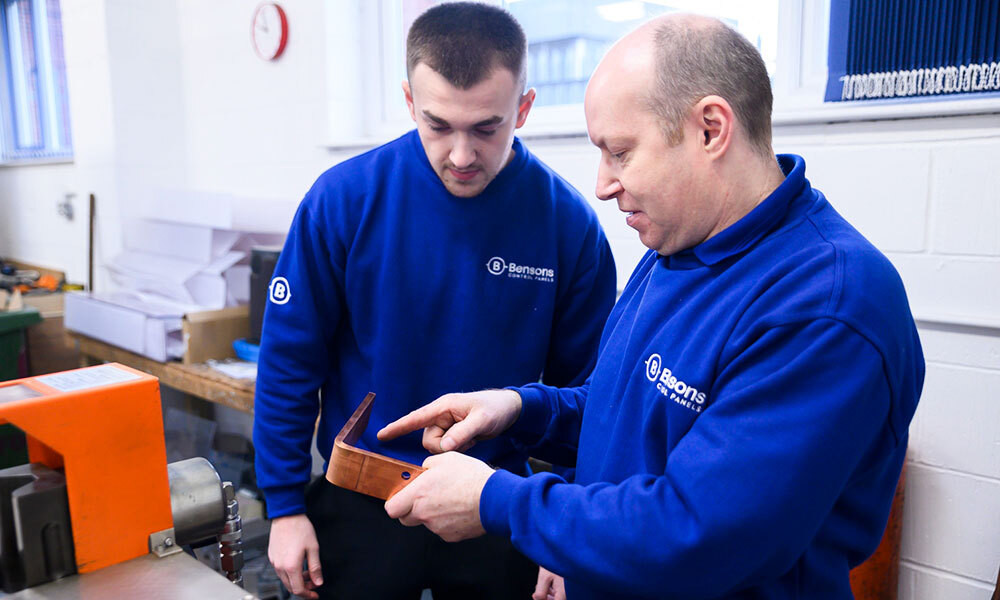 After launching our apprenticeship programme last year, we're delighted to welcome our first apprentice Brandon Stead as he begins work in the Bensons' factory.
After spending an intensive three months in the classroom, Brandon is now applying the theory he has learnt in our factory four days each week. This gives him the opportunity to refine his skills while continuing with college one day per week.
At Bensons, we're committed to investing in new talent to keep our business at the forefront of our industry. To meet this goal, we launched the Bensons' apprenticeship programme in 2019 to nurture and develop new talent within the industry.
Our ongoing Level 3 Engineering Fitter apprenticeship programme was developed in partnership with Leeds LEP and Humberside Engineering Training Association (HETA).
We're already seeing major benefits from the apprenticeship system and are committed to recruiting additional apprentices in 2020. These apprenticeship opportunities will be across both our manufacturing side and also more widely across the business.
Commenting on the programme, Brandon says: "This has been a great opportunity for me to be able work towards my desired qualifications. Gaining experience throughout the company, I have been able to learn new skills week on week from a very experienced workforce."
Talking about the scheme, Matthew Barton, director at Bensons says: "It is the skills and experience of our workforce that enables us to consistently design and build the high-quality control panels for which we are known. That's why schemes like our new apprenticeship programme are so important to develop the skills and talent needed within the industry."
The Role That Control Panels Play In The Efficient Operation Of Boilers & Heating Systems
Around 85% of the UK's commercial and industrial buildings are currently heated by gas. However, the heating of UK properties is about to undergo a substantial change as we transition towards low carbon energy systems.
Read More
Need to discuss your perfect Control Panel solution? Simply fill in the form with your details and requirements and we'll be in touch!
Give Us A Call